Smart TV - Curved LED - 50" - Ultra Slim - 4K - Ultra HD - Black - 12 Months
See Details
Key Features
Screen size: 50 inches
Resolution: 1920 x 1080 pixels
Curved TV
Display Technology: 4K
Energy saving: 80%
Connectivity: HDMI x 3, PC / VGA, Audio IN; Earphone; USB 2.0
Sold by Star Sat

Delivery

Delivery Timelines and Cities

| | | |
| --- | --- | --- |
| City | | Regular |
| Douala | 1 - 2* | 2 - 4 |
| Yaoundé | 2 - 3* | 3 - 5 |
| Nord | 4 - 7* | 8 - 10 |
| All Other Cities | 4 - 7* | 8 - 10 |

*If order placed before 2pm.

JUMIA Express is available only for items with the Jumia Express Logo. Click here for more information.

Delivery times are business days only, and do not include Saturday & Sunday.

Click here for our full Delivery Timelines.

Monday 23 Sep to Wednesday 25 Sep

Warranty

See more details about warranty

here

12 Mois
7 days free return under certain conditions
Retour gratuit sous 7 jours:
Il est à noter que nous n'acceptons pas les retours pour les articles de lingerie, hygiène et les sous-vêtements.
Cliquez ici pour plus d'informations sur les conditions et délais de retour.
5 stars

4 stars

3 stars

2 stars

1 star
Review of Star Sat 50" UHD 4K LED TV
I bought this TV because of the following characteristics:
1. Smart Android TV
2. 4K UHD aspect
3. 3D screen
4. Integrated decoder
As a smart android TV it fits the billing perfectly because even with low a low bandwidth in tens of kilobytes per second I am able to stream live TV channels with very little glitches. The only hindsight is poor but acceptable picture quality.
As a UHD 4K TV, I wouldn't call it a full 4K TV. 4k TVs are very rare. It is an FHD (Full HD) TV.
To enjoy the screen quality of videos, they should be of 1080p to be well enjoyed. I have a problem with the sound quality compared to Hisense TVs. Although it has an output of 8w per speaker, if not well regulated the sound coming out of the speakers will seem squeaky.
I am yet to test the internally imbedded decoder to check its performance.
The fact that my Android phone can serve as a hotspot, allowing me to use this TV to browse the internet, mirror applications and stream live TV channels via the internet makes me to give it a benchmark of 4/5.
Read more
Hide
The StarSat brand
StarSat services are broadcast via satellite, using the SES-5 satellite at the 5 ° east orbital position and three of the six 36 MHz transponders of the "Ku-band sub-Saharan Africa" beam providing coverage of the entire region of the world. 'Sub-Saharan Africa. [7] The broadcasts are in MPEG-4 DVB-S2 digital TV format with reception via a simple decoder and with the Combo3 PVR decoder launched in 2011.
UHD Display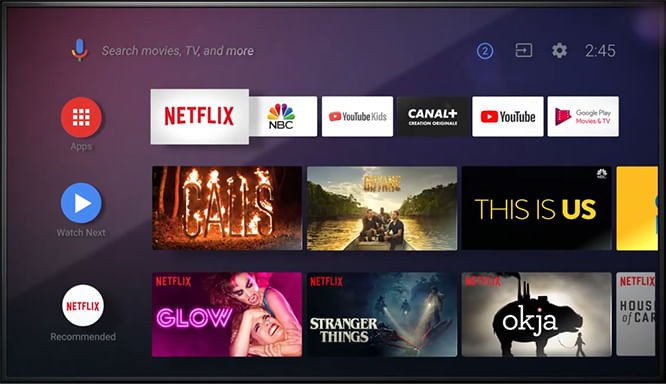 The LED TV offers a superior image quality with UHD Resolution. This allows you to get even more in detail for a breathtaking visual experience! Enjoy stunning images with exceptional sound for total sound immersion, entertainment and guaranteed satisfaction!
USB 2.0
Connect your digital camera, MP-3 player or USB stick via the USB port to show off your latest holiday photos, music collection or high definition movies for a true multimedia experience.
Watch the sport in the best way possible.
With the Samsung TV, you can not only watch the sport in total comfort, but in the best possible way. Indeed, the Sports mode allows you to integrate fantastic features, as well as a shortcut that activates them all simultaneously. Improve picture and sound quality and watch each move and goal with exceptional clarity. The sound quality will ensure that the atmosphere in your living room and will be as thrilling as in the stadium.
LED
LED technology is the best on the market today. In addition to using the latest technology in terms of screen, this led tv offers you an unbeatable price / quality ratio by the TV brands competing in the same category.
Key Features
Screen size: 50 inches
Resolution: 1920 x 1080 pixels
Curved TV
Display Technology: 4K
Energy saving: 80%
Connectivity: HDMI x 3, PC / VGA, Audio IN; Earphone; USB 2.0
Double screen; protection screen on the back, 3D function
Taille de l'écran (pouces)
50.0
Garantie produit (en mois)
12 Mois